I've been a recreational boater for most of my life, operating with small, single engine power boats.  My experience in and around the Charleston, South Carolina harbor, nearby rivers and offshore has been fairly extensive.  Last year I decided to purchase a larger vessel, a 42 ft. Sea Ray Sundancer express cruiser.  Her name is Kudzu, and her home port is Hilton Head Island, SC.  My first impression was oh-oh…this is going to be a steep learning curve.  She's got twin 450 hp Cummins diesels, with dual gear and throttle controls; nothing fancy like pod control or bow thrusters. After a few training sessions with Captain Miles around Hilton Head, I finally got the hang of the twin engines, learning how to spin 360 degrees, and maneuver with the gears instead of throttles at low speeds.
Vessels equipped with generator, berth, head, galley and cable tv offer lots of possibilities, and I wanted to learn more about chart plotting and navigation.  So I purchased an online course named Coastal Navigation.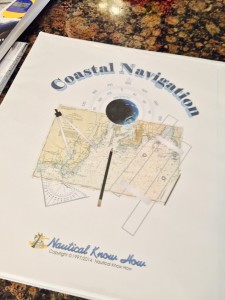 The course prepares students for the navigation portion of the USCG captain's license. I also ordered the optional tool set – parallel rulers and dividers.  At the end of each section in the notebook, there are quizzes with answers posted online. After finishing the course, which took 2 months, I decided to pursue a Coast Guard OUPV (Operator of Uninspected Passenger Vessels, or "6-pack") captain's license.  My plan was to cruise on Kudzu for extended trips along the ICW (my first trip was in August 2015 from Hilton Head to Charleston) and believed it was important to learn as much as possible.  After a quick search, I found an online course called Mariners Learning System.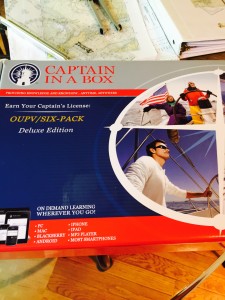 The price was $595 and seemed to be comprehensive and a convenient home-based alternative to 8-day instructor-led licensing programs, such as the highly regarded Chapman school in Florida. Since I have a hectic schedule at work, attending a course for 8 days in Florida was out of the question – besides, I prefer to learn at my own pace. I stared at the box for several weeks, then finally logged in to my account.  My initial impression was that the course was going to take a while, because each of the four main categories contained multiple tests that each required a 90% score before moving to the next category. After the "sub-tests" are completed within each category, a "master" test for each of the 4 categories is required with a minimum score of 90% before qualifying to take the Coast Guard proctored tests. I decided to finish all the sub-tests first, then loop back and review each of the four major categories before taking the tests.  The final exam subject areas are:
Rules of the Road
Deck General
Navigation General
Plotting
The toughest subjects are Rules of the Road (requires 90% minimum score on final exam) and Plotting.  Since I had already finished the Coastal Navigation course mentioned above, I was well prepared for the Plotting section. If you want to really understand chart plotting, I suggest purchasing a similar course – the content provided is far more comprehensive than the Mariners Learning System.  I also highly recommend this site for generating practice tests from the Coast Guard database of 15,000 questions – especially important for learning the Rules of the Road.  I drilled with these tests repeatedly until consistently scoring at or above 90%.
From start to finish, the total time spent on the Mariner's Learning System was around 100 hours. I scheduled the proctored test 3 months after starting the online course, and spent 4 days cramming before final date of the test on August 8th in Charleston, SC. Fortunately, I passed all 4 tests on the first attempt and received my diploma in the mail within a week.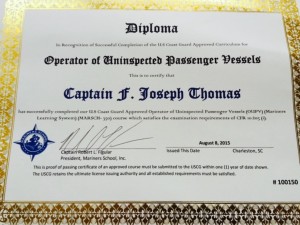 The test is just one of many requirements to receive your final captain's license, albeit the hardest.  Here are the other milestones that must be met:
Fill out application form CG-719B
Obtain a TWIC card – requires a TSA federal background check with fingerprinting (costs $95). They send you a picture ID in the mail – it has to be copied and submitted with your package
Complete certified CPR and First Aid training course (8 hours on a Saturday at the American Red Cross facility in my case)
Pass a physical and eye exam (I had to use 2 different doctors to complete the forms – family doctor and my eye doctor)
List 3 character references – easy 1 page form with signatures.
Pass a DOT Drug Test – this costs around $59 from a certified DOT testing center.
Complete requirements on Coast Guard Sea Service Form CG-719S – it requires 360 days of operation, 90 days within the past 3 years.  Check details on USCG website
Pay a $145 applicant evaluation/issuance fee ($100+$45) using pay.gov website.
When all this information is compiled, you can mail it, email it, or set up an appointment to have it reviewed in person at a Coast Guard Regional Exam Center.
A couple other pointers – for study and reference purpose, get a copy of the latest Coast Guard Navigation Rules Handbook.  It's now a requirement to have this book onboard if your powered vessel is 12 meters or longer.  The Coast Guard website is impressive. All of the Coast Guard approved training centers throughout the country rely directly on the COLREGS (Collision Regulations), publications, policies, updated procedures, NAVAIDS, weather, and practice questions found on the USCG site, among other things.  Within approximately 1 month of completing and submitting all the requirements listed, which I forwarded to my nearest USCG office using a UPS overnight delivery envelope, I finally received the much anticipated mariner's license.  It was quite a thrill.